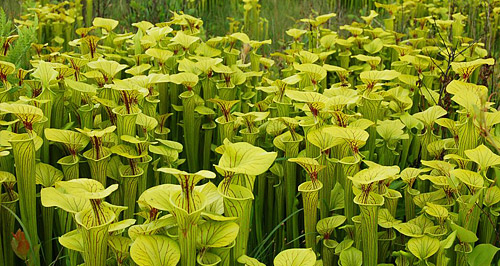 Mission Statement
To preserve and restore pitcher plants bogs, and associated ecosystems in Maryland and Virginia utilizing a unique five step process of discovery, propagation, research, reintroduction, and education. To establish a series of nature preserves to protect indigenous pitcher plant systems in perpetuity.
Welcome to Meadowview!
Meadowview is a non-profit501(c)(3) organization dedicated to preserving and restoring rare wetland plants, habitats and associated ecosystems on the coastal plain of Maryland and Virginia. Our particular area of specialization is an endangered habitat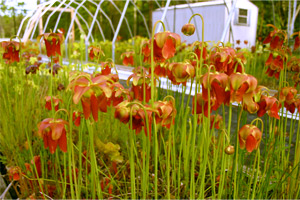 known as pitcher plant bogs or seepage wetlands. Bogs are acidic, nutrient poor wetlands which are characterized by a unique assemblage of plants and animals. Many bogs have been lost in Maryland and Virginia through drainage, development or neglect and most of the plants found in these sites are threatened with extinction.
Our goal is to preserve and restore a part of our natural bog heritage by returning the endangered Yellow Pitcher Plant, Sarracenia flava, and the Purple Pitcher Plant, Sarracenia purpurea, to their historic ranges in Virginia and Maryland utilizing an integrated ecosystem restoration approach. The carnivorous plant, Sarracenia flava, formerly occurred in eight counties in Virginia and is now down to one population totaling less than 100 plants. Our objective is to have at least one viable population in each county of the historic range. We also are developing a system of bog preserves in Maryland and Virginia which will guarantee the preservation of the unique ecosystems supporting the pitcher plant community. Read More.